Directory
1. Product Brief Introduction
Wire rope is a very important, but high-risk component of elevator equipment as it directly concerns the safety of passengers'life and property. For a long time, due to the lack of reliable inspection equipment, wire rope safety has always been a "blind spot" of elevator safety management and even a "hidden danger"for passengers' life.
  Our company adopts the world's leading Weak Magnetism Inspection Technology into non-destructive inspection of elevator traction rope, which enables to solve effectively the problems concerning elevator rope safety management.
Elevator Wire Rope Tester has achieved the perfect combination of innovative technology,practicability and miniaturization, it adopts data logging method to realize the data exchange by connecting to serial port of laptop.

  W® Elevator Wire Rope Tester is easy to operate, it's able to inspect multi-ropes in a single row at the same time, the test result is detailed and reliable. It provides the elevator wire ropes operation with high-tech security and has been recognized by users as the most advanced NDT equipment for elevator wire rope inspection in the world.

2. Features of Products
Features of Elevator Wire Rope Tester

1、High sensor sensitivity, high instrument reliabilit




The sensitivity of sensor used by TCK • W elevator wire rope flaw detector is Hall element 7000-250000 times higher than that of Hall elements; The detection accuracy, stability, repetition rate, reliability is much better than similar products at home and abroad;

2、Testing multi-ropes simultaneously, high efficiency




TCK • W Elevator Wire Rope Flaw Detector can detect multiple elevator ropes at the same time. It takes only 10-15 minutes to complete an elevator wire rope test, which is 15 times more efficient than the detection of the same type of traditional products

3、Small size, light weight

The weight of TCK • W elevator wire rope flaws detector body is not greater than 2.9Kg

4、easy & convenient to operate




Just flip the buckle on test body the device can be installed online or unlocked offline. Good man-machine interface, interactive operation allows users to operate easily at a glance;

5、Wide application

The analysis soft equipped with TCK • W elevator wire rope flaw detector not only meets the testing needs of ordinary users, but also provides analytical methods and means for professionals.

6、Wide sensor operating temperature

Relative humidity: ≤ 95% RH;there is no temperature drift

3. System Function
  1. Instrument can quantitatively inspect internal & external broken wires, abrasion, corrosion, fatigue and other flaws and correctly evaluating the residual bearing capacity and service life of the inspected wire rope
  2. Instrument is adaptable to array features of elevator ropes and can inspect multi-ropes simultaneously.
  3 .The instrument can send out alarm sounds during test if flaws found.
  4. The instrument has function of fault self-diagnose, ensuring reliable operation.
  5. The instrument has function of fault self-diagnose, ensuring reliable operation.
  6. A concise keyboard layout design is adopted in this instrument, with a linear logic rolling interface switch, indicative man-machine dialog, intelligent built-in software operation, easy and convenient to operate.
  7. The instrument is connected with laptop, equipped with professional software in it. The testing data analysis, display, storage, printing, filing etc. can be performed one time.
  8. The instrument is equipped with high-performance Lithium-polymer batter which conforms to national standard and can be recharged random and circularly.
  9. The high strength, anti-corrosion organic insulation engineering material are applied to body of instrument, ensuring instrument not damaged by accidental injury such as electric leakage, short circuit, outdoor thunder strike etc under all kinds of operation environment.
  10.The instrument has passed CE certification of EMC, no electromagnetic pollution to environment and no interference with operation of nearby electronic and communication equipment.
  4.Inspection Process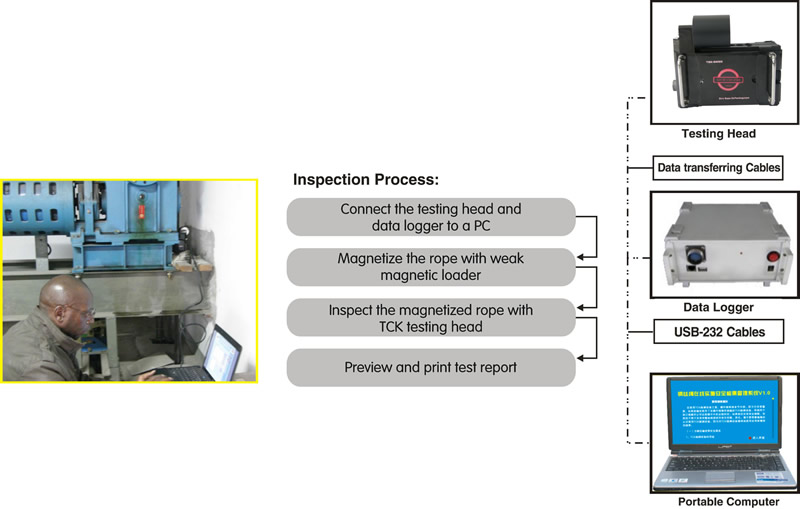 5. Specification & Parameter
Technical parameter of elevator wire rope tester

1.

Specification & Model

:TCK•W–DT1622 /DT180/DT230
2. Applicable rope dia.:8-16mm;Numbers of ropes: 1-8
3. The width of elevator ropes in one row:<130/180/230mm
4. Rope speed for safe test:<3m/s

5. Dimension of Tester: DT1622 (252mmX207mmX125mm), DT180(Customized),DT230(Customized)

6. Net weight of testing head:<2.9Kg
7. Flaws locating accuracy: > 98%
8. Defect equivalent uncertainty (P): ±0.5%
9. (Important Flaws) Flaws real-time detectability: 100%
10. (Light Flaws) Flaws real-time detectability: >90%
11. Technology expansibility: Customized according to clients' request.
12. Operation environment of sensor: Temperature: -20℃~55℃; Humidity: ≤95%RH
13. Ingress Protection: IP67


6.Test Report
Software Brief Introduction
TCK.W-BX Elevator Professional Wire Rope Safety Monitoring Management System V1.0 can calculate and analyze comprehensively testing data; preset data table/fitted curve/statistics diagram, have such powerful technical function as system self-checking and troubleshooting etc. it is safe assistant to elevator maintenance company and elevator users
Test Report
| | |
| --- | --- |
| Main interface | Query interface |
| | |
| Query interface damage | Query interface graph |
| | |
| query interface statistics | |
| | |
Elevator Wire Rope Tester—
Field application
To obtain detailed technical information, please submit your information in the following message board, the staff will contact with you after confirmation, and send the data to your mailbox.